Fall is well and truly in the air, and Virginia's Shenandoah National Park is one of the most spectacular places in the country to catch the bursting color of native trees. So much so, that each week in October, the Shenandoah National Park staff posts a weekly color report outlining fall foliage activity in the area. Starting from October, the leaves are showing brilliantly and should continue to show that way over the weeks till early December. At only 75 miles from DC, the park makes for an easy spontaneous escape from the city.
The main pathway of your leaf peeping journey will occur on Skyline Drive Scenic Highway—105 miles of paved road coursing through Shenandoah National Park, starting in Front Royal, Virginia at the north side (you'll hit this first if coming from DC) curving south to Waynesboro, Virginia. Skyline Drive follows the crest of the Blue Ridge Mountains and is surrounded 500 miles of hiking trails leading to peaks and valleys, stunning waterfalls, and 75 overlooks along Skyline Drive.
Although you might need a car to explore the beauty of the Shenandoah Vally in the fall season, here are some places to get close the Valley, which are accessible by buses from the major cities on the East Coast. If you don't own a car, or you don't want to take that 10+ hour drive, hop on one of the buses at Chinatown, New York City. They will take you right into the lovely towns at the foot of the mountains of Shenandoah.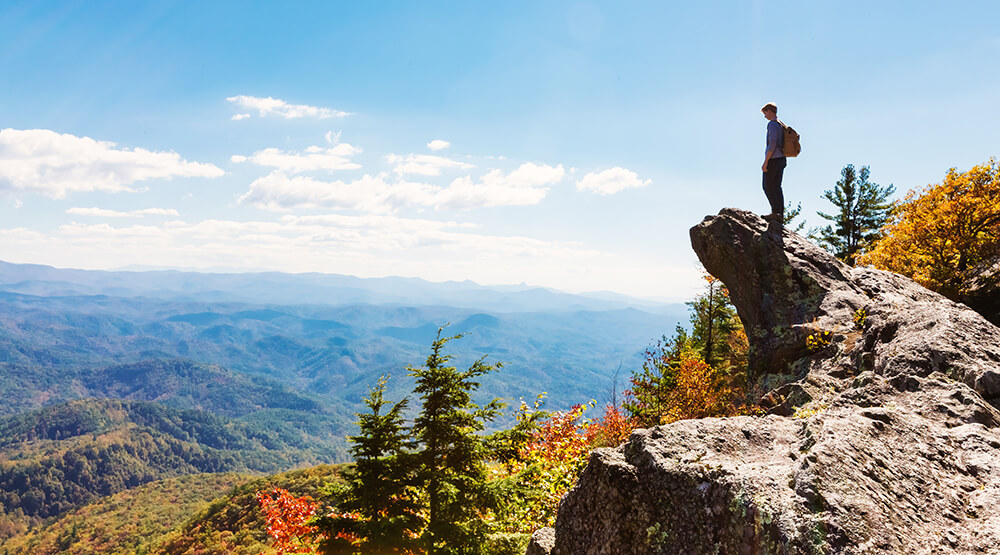 Richmond has traditionally had a genteel, understated nature. More recently, a new Richmond has emerged, with ambitious college students and diverse residents moving into historic spaces; a restaurant scene that gets better every month; and the elevation of hometown United States Senator Tim Kaine as the Democratic vice-presidential nominee. With the James River as an anchor, Richmond reveals a stark natural beauty that, no matter the season, offers a distinctive urban charm and vibrancy.
A 100-foot high star atop a mountain and visible from miles around welcomes you to the "Star City of the South," a great beginning for your weekend getaway to this city rich in culture, history, fun and entertainment. Close to the star is the Mill Mountain Zoological Park, where you'll see the endangered Snow Leopard, Amur Tiger and Red Wolf, along with 40-plus other animal species. The Center in the Square is the city's cultural hub, where you can catch a Broadway-quality show at the Mill Mountain Theatre or hear the celebrated Roanoke Symphony. Museums are everywhere, and whether your interest lies in art, history, science or transportation, you'll find a museum to match it. The Harrison Museum of African-American Culture honors achievements of African Americans and includes an impressive African exhibit. For underground delights, head over to the Dixie Caverns for a 45-minute tour of breathtaking cave formations, after which you can browse through pottery, rock and mineral and other shops. There's something to keep you occupied and entertained every minute in this environmentally-conscious, friendly and very welcoming Virginia city.
Nestled in the heart of the serene and breathtaking Shenandoah Valley, Harrisonburg offers visitors a rich historical and cultural experience, a plethora of ethnic dining options, and an abundance of outdoor activities. It's here you can relax with your activity of choice, whether it be sipping on locally-made beer and wine, digging into farm-fresh dishes, scooping up tickets to see the area's performing artists, or renting a bike to tour the city's picturesque landscape and acclaimed trails all during your trip to Harrisonburg.
Please follow and like us: