Every year, the Chaddick Institute for Metropolitan Development puts out a study on the outlook of the intercity bus industry in the coming year and future. These are always very interesting reports to us, and this year, we figure we would go over the report for you and highlight some of the really exciting new developments that are forthcoming, and some that you may even end up seeing from a few of our partners at some point.
Anyway, without further ado, here is our dissection of Driving Demand: 2018 Outlook for the Intercity Bus Industry in the United States.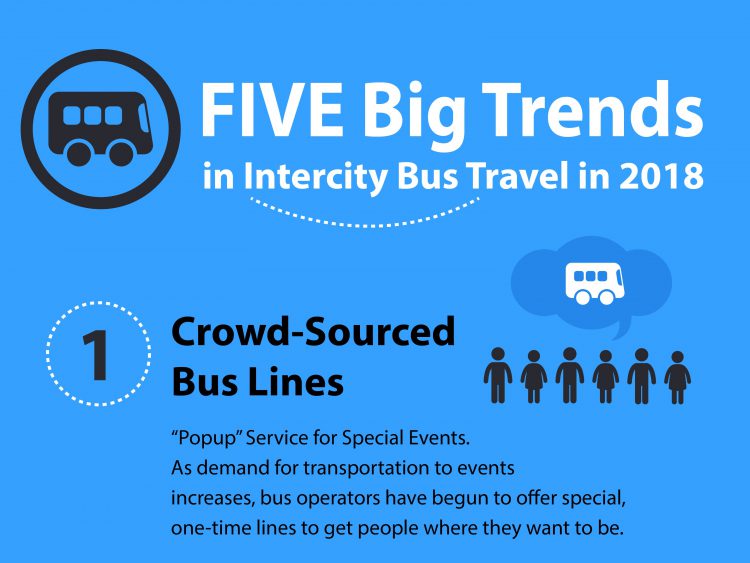 The demand for intercity buses is increasing
It should come as no surprise that buses are making a comeback. With added features like curbside pickup and guaranteed seating for those who buy a ticket online, combined with the low prices and convenient times of travel, it's no wonder that the industry is seeing a spike. There doesn't seem to be any foreseeable end to this trend, so expect bus travel to trend up for quite some time.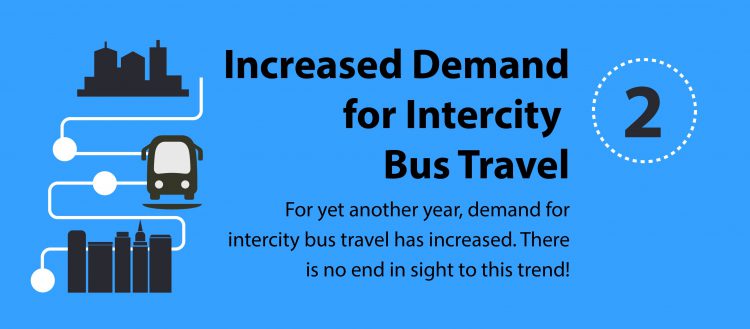 Technological innovation is helping the industry to thrive.
A point we are very proud of that authors Joseph P. Schwieterman and Brian Antolin make is that, "[t]echnological innovation is pushing scheduled intercity bus travel in important new directions, with several technologies' disruptive effects accelerating the change" (Schwieterman and Antolin, pg. 5). Some technologies highlighted are crowdsource-generated bus routes and innovations in transport network companies.

Crowdsource-generated bus routes are gaining popularity, with public events like the Woman's March on Washington, DC, or music festivals like Coachella and Firefly, large groups are coordinating together to make transportation easy and affordable. By bus companies incorporating new bus routes based on popular demand, they make themselves much more flexible and accommodating to their consumers.
One of the more interesting innovations is the booking of multi-leg and multi-service trips. The idea is that you would pay one fee for an entire trip, which might consist of an Uber or Lyft to a bus station, a bus from one city hub to another, and then a train from that city to another, further city. Rather than booking it all separately, it would be one convenient price through one service, making travel a much more streamlined experience for the traveler.
Are these new features something you will be seeing at iLIKEBUS and our partners in the near future? Well, you will just have to stay tuned on those developments…

Rise of the premium bus lines
As bus travel becomes more and more popular, it's only natural that some people seek an enhancement to their typical driving experience. New services are beginning to pop up that allow for an exclusive, first-class experience for a premium. While it starts to leave the realm of common affordability, it's exciting to see new options like this pop up in the industry.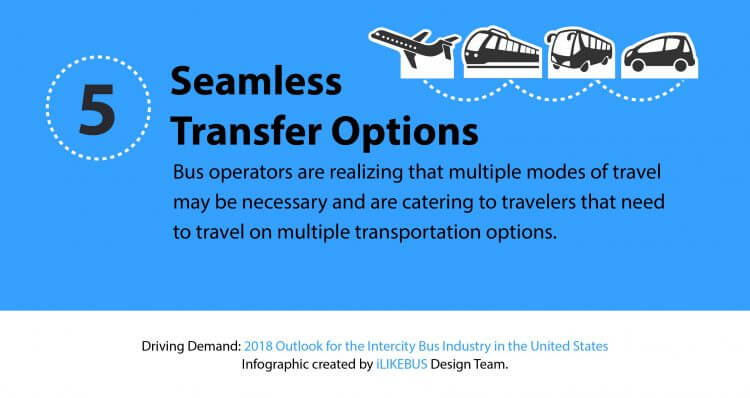 Overall, it seems that, based on the report, there is no better time to be a bus traveler, and the future is only getting brighter! It excites us here at iLIKEBUS, and we hope it excites you too! Join the growing trend, don't wait for the future, and book your tickets with iLIKEBUS today!
***
About the Author:
Carter Nordike is the Social Media Specialist at iLIKEBUS. Carter graduated with his B.A. in English from the University of Mary Washington. He could not be happier that the Patriots just lost the Super Bowl, and is considering taking a bus trip to Philadelphia just to celebrate. If you have any questions or concerns about a blog post, please email him at carter@unitedbustech.com.
Please follow and like us: